About the Trainer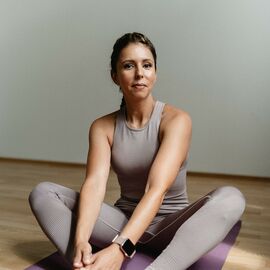 As a mother of two who struggled with pelvic floor issues following both pregnancies, it brings me enormous satisfaction to help women feel healthy, strong and empowered throughout pregnancy, post-baby and beyond. The state of our health and wellbeing can impact those around of us greatly, and so it is my job to help mothers focus some of their attention on themselves. My motto has always been: a healthy and strong mama = a happy baby!
I'm also a big believer that an active lifestyle is one of the greatest gifts you can share with your family, and so children are welcome to any of my training sessions, whether personal training or group classes. I also teach functional fitness classes where both parents and children are welcome. It's never to early to start setting positive examples!
I have always been a passionate advocate for women's health, and strive to continuously offer my clients a highly specialised service that is relevant, flexible and tailored to their needs. And to be able to do so, I continue to invest in knowledge, regularly attending specialisation courses and ensuring I am up-to-date with the most recent research on prenatal and postnatal health.
Trainer's Qualifications
| | |
| --- | --- |
| 2014 | Group Fitness Qualification (SAFS) |
| 2014 | Postnatal Fitness – teacher until 2015 (fitdankbaby®) |
| 2014 | Pilates Mat (SAFS) |
| 2014 | Training Throughout Pregnancy – Specialisation Workshop (SAFS) |
| 2015 | Nutrition Coach (SAFS) |
| 2015 | Basic Life Support (BLS/AED)/Child and Infant First Aid |
| 2017 | Pilates Overball and Balance Pad Specialisation Workshop (SAFS) |
| 2017 | BeBo® Kursleiterin/Pelvic Floor Coach |
| 2017 | Fitness Trainer (SAFS) |
| 2018 | Personal Trainer (SAFS) |
| 2019 | CrossFit Level 1 Trainer |
| 2019 | Metabolic Balance® Betreuer/Coach |
| 2019 - 2020 | Pelvic Floor Specialist: Pregnancy and Postpartum/ Beckenboden Fachfrau nach BeBo® |