Group Fitness: for Mamas and Papas!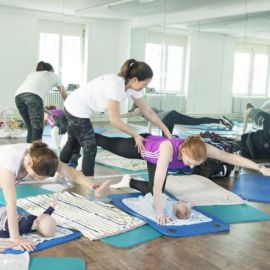 We wholeheartedly believe that an active lifestyle is one of the greatest gifts you can share with your family, and so children are always welcome to any of our adult classes. We have plenty of toys and a lovely space that they can safely explore while mum or dad or mum & dad get a good workout!
VIRTUAL CLASSES - FOR MAMAS AND MAMAS-TO-BE
As times remain uncertain, and your health and safety are paramount, Well Mama will keep running some group classes virtually and some outdoors until further notice.
If attending the virtual classes, you will be able to follow the workouts live from the safety and comfort of your own home. Classes will be recorded, so you will always be able to catch up* if you need to miss a class. I'll constantly check the screen to make necessary corrections or to offer modifications, and for this reason classes will be limited to eight participants.
Classes will initially run for a 'term' of eight classes, from the week starting on 10/05 through to 05/07 (no class 24/05).
MONDAYS I 10:30-11:30: Baby Let's Move – Pelvic Floor Recovery and Immediate Postnatal Fitness. A combination of pelvic floor and deep abdominal muscle recovery, low-impact cardio and strength training. Your little one is welcome to participate with you.
TUESDAYS I 09:30 – 10:30: Outdoor Functional Fitness for Mamas - a dynamic class that combines cardio, strength training and Pilates. Class takes place at Mythenquai - weather dependant. Please email for further information and meeting place map.
Your investment
25CHF/class. All classes have a duration of 60min.
Insurance approved**
To guarantee your spot: https://wellmama.ch/en/booking.html
*Recordings will be kept for seven days from the date the live class took place.
**Classes covered under supplementary insurance. Refund amounts differ from insurer to insurer. Please check with your provider for exact details.
PRESENCE CLASSES - THIS CLASS IS CURRENTLY TAKING PLACE VIRTUALLY OR OUTDOORS
FUNCTIONAL FITNESS FOR BUSY PARENTS
This class is open to women and men, so perfect for couples looking to workout together while your little one(s) play alongside you in our great soft-play area. The class is designed to help you improve your physical well-being and cardiovascular fitness in a challenging yet encouraging environment. It will include constantly varied and high-intensity functional movements, but these will be tailored to fit the needs of new parents restarting their fitness journey.
Class time: Saturdays from 09:00 – 10:00
YOUR INVESTMENT
Trial lesson: 15CHF
5 lesson pass: 140CHF (valid for 7 weeks)
10 lesson pass: 250CHF (valid for 3 months)
Couples attending together: 20CHF each per class
Outdoor Classes - Mythenquai, Zurich
BABY LET'S GET STRONG – OUTDOORS (from around 12-weeks postpartum)
A great way to tank some vitamin D, and to turn exercise into family time. Grab a blanket and some toys for the little ones, a mat for yourself, and get ready for a good time! The class consists of medium-high intensity cardio, resistance training, and power Pilates. Class open to all fitness levels.
Classes take place every Tuesday (weather dependant) from 09:30-10:30 in the playground area in Mythnquai. Please email for further information and map. Class runs on a flexibly pay-as-you-go system.
Group Fitness Schedule
| | | | | | |
| --- | --- | --- | --- | --- | --- |
| MONDAY | TUESDAY | WEDNESDAY | THURSDAY | FRIDAY | SATURDAY |
| 10:30-11:30 Baby Let's Move, VIRTUAL | 09:30-10:30 Outdoor Functional Fitness for Mamas | | | | 09:00-10:00 Functional Fitness for Busy Parents |
| | | | | | |
| | | | | | |
| | | | | | |
| | | | | | |