Personal Training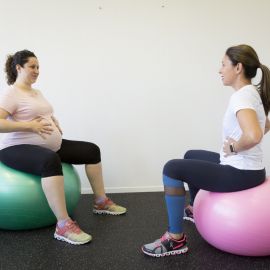 Whether you are a new mom or your kids are off to college, personal training can give you the kick start you need to get strong and healthy.
As an experienced fitness professional, and a mother currently navigating the motherhood journey myself, I am passionate about helping fellow mothers achieve their fitness and health goals, whether this means recovering their pelvic floor strength or attaining a stronger body, and everything in between!
Personal training sessions can take place at a location of your choice (indoors or outdoors), or at Well Mama's personal training room in Thalwil (ZH). You may attend with or without your little one. Every session is different and we work with a wide-range of small and functional equipment to ensure the training sessions are always different, exciting and challenging. Some of the equipment you can expect to work with include: TRX® Suspension Training, Bosu® Balance Trainer, Flexi-Bar®, T-Bow®, Pilates Balance Pad, Ball and Roll, among many others.
What you can expect from personal training sessions with Well Mama:
Help with your unique requirements, pregnancy and postnatal related issues, injuries, or other issues which may prevent you from exercising
Setting of realistic and achievable goals
Accountability
Flexibility for location and a fair cancellation policy
A personalised training plan if you're booking 5 sessions or more
Fact-based nutrition advice and a personalised dietary analysis and report if you're booking 10 sessions or more
A challenge! Every training session is different - I'll continually challenge your abilities and encourage you to reach your goals.
Prenatal Personal Training
If you are pregnant or plan to become pregnant, staying fit can ensure a smoother pregnancy and faster recovery. Working with a prenatal fitness specialist is the safest and most effective way to achieve your pregnancy health goals. These may include being able to continue to work or exercise throughout pregnancy, keeping weight gain to recommended levels, or maintaining good posture and avoiding the dreaded back-pain that tends to plague most pregnancies.
Well Mama's personalised prenatal exercise programme will help prepare your body for pregnancy, birth and recovery. Every session is different and completely tailored to how you may be feeling physically and emotionally. Your personalised exercise programme is adapted trimester by trimester, or sooner depending on how you're feeling and any pregnancy related issues.
Postnatal Personal Training
Finding the time and energy to exercise with a baby is no small feat. You could be feeling overwhelmed, achy, sleep deprived, stressed out or all of these things combined, and the motivation is simply not there.
Maybe you cannot find a class time that suits you, or you don't yet feel ready to join a group class.
Or perhaps there are issues from the pregnancy or birth that need to be addressed before you can return to your previous exercise routine i.e. incontinence, prolapse, 3rd/4th degree tears, weak pelvic floor, or diastasis recti.
If this sounds like you, Well Mama's knowledgeable, flexible and experienced postnatal personal training is the perfect way to get the attention you need where and when it suits you!